The Temple Wedding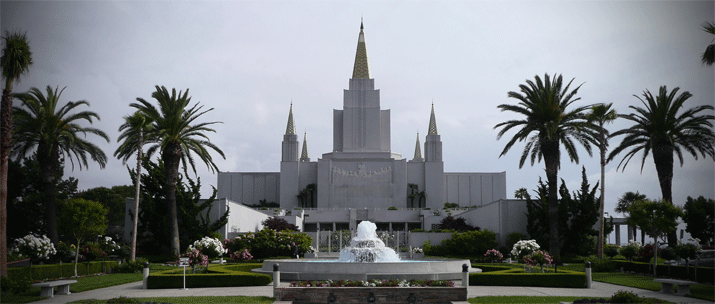 The Oakland Temple

Every Latter-day Saint's ultimate goal is to go to the temple to receive his or her own endowment and to be sealed for time and eternity to a worthy partner.

  


There are two primary reasons for being married in the temple.

  

The first is that the couple makes covenants directly with the Lord during their marriage vows.

  


The second is that the temple marriage is not just for time (until death) but for all eternity (if the couple is true to the covenants that they make in the temple.)
There are other secular reasons why you will happy you chose to be married in the temple.  There is no cost for a sealing room, or the officiator (the sealer). 
There are no floral decorations so there are no decorating costs to pay for. (That should tell you how important your temple marriage is to the Lord.  He wants 
everyone to be able to be sealed in the temple.  It's our job to be worth of that blessing.)

Young men and young women who are called on a mission must first obtain their own endowment, so if a young woman (or young man)

  

is engaged to a 
returned missionary, he or she has already been through the temple. Even if both parties have

 

been through the temple and hold a current recommend, they 
still need to interview with their bishop(s) prior to performing the sealing ordinance.

  
A person must be a member of the church for one year before he or she can go to the temple to receive his or her own endowment. Every person attending 
the sealing must have a recommend from the bishop indicating his or her worthiness to enter the temple. No member can enter the temple at any time without 
showing a recommend.

  

For couple's already holding a current temple recommend, an additional recommend is required for the marriage sealing ordinance 
and both recommends must be shown before the ordinances can be performed.



What to wear in the Temple:


Wedding gowns worn in the temple must be WHITE (not off-white, or ivory).  If you plan to wear your wedding dress for the ceremony, try to select a gown 
that will need as little altering as necessary.  It must be high necked and have long sleeves.  Most temples provide sleeves and neckline dickies to meet the 
temple requirements if your dress needs some minor adjustments to become temple worthy. Sheer fabrics must be lined. It must have a removable train or one 
that can be bustled up.  If your dress has a long straight skirt with a slit that goes up to the knees, you must wear a liner (the temple will provide one or you can 
bring your own).  For the dress to be worn for the ceremony in the temple, it should be free of elaborate ornamentation and be in harmony with the simple and 
sacred nature of the temple ceremony.  If possible, it is a good idea to take your dress to the temple before your wedding day to make sure it will be approved.
You must also wear your garments, white pantyhose, and white shoes (with white or cream soles). Plan on wearing simple pearls or no jewelry (save the "glitz" 
for outside the temple and your reception).  You won't be wearing the veil you purchased for your gown, but you will still want to bring it to the temple so you 
can wear it out for photos.

Temple garments should never be altered or removed in order to accommodate the style of the wedding dress.

Brides being endowed the same day as their marriage should wear a temple dress for their endowment, and then may change into their wedding dress for the 
marriage.

Your bridesmaids may or may not be able to wear their dresses in the temple even if they meet the modesty requirements. Check with your temple.

The Groom's attire:
The groom cannot wear his Tux for the marriage ceremony.  He must wear white temple clothing and white shoes.  Check with your temple to see if 
clothing can be provided or if he has to purchase his own temple clothing prior to your wedding date.

Setting the Date with the Temple:
1. Call the temple and ask for a date and time (they will send you the information you need to know)
    It is very important that you follow their guidelines.
2. If you know someone who is a sealer in the temple, you may request that he perform your ceremony, otherwise, the temple will provide one for you.
3. If you haven't been endowed, make an appointment for that ordinance before the temple sealing appointment.  It is possible to have both ordinances done
    on the same day, but I would strongly advise against that.  It will take some pressure off and help you to focus more on each ordinance if you schedule
     it on different days.  These are important ordinances and will require your complete attention.  If you try to do them in succession, you will be distracted 
     knowing that the marriage is coming up next and you won't be focusing on your endowment. I would suggest scheduling your endowment sometime 
     during the week before your marriage, even the day before is fine.
4.  You should wait until you reserve a sealing room before you start inviting people.  You need to know how many people will fit in the room. When
      inviting guests, be sure they have a temple recommend.  Don't invite more people than the sealing room can accommodate.
5.  Don't plan to have your reception scheduled too close to your sealing time.  It is not unusual for the marriage ceremonies to get backed up and yours 
     could be delayed for an hour or even two.  You do not want to be late for your reception!

Your guests do not need to wear temple clothes or dress in white.  They can wear their best Sunday attire for church (women may NOT wear pants).   No hats 
     are allowed inside the temple.Your guests should arrive 30 minutes before the ceremony.
Non-members, members without recommends, and children can wait in a waiting room until the ceremony is over and then meet the bride and groom as they 
     exit the temple for hugs, kisses, and photographs.
If you have a bridesmaid who does not have a temple recommend, she would be an ideal person to act as a hostess for the guests who are unable to attend 
     the sealing.
NO CAMERAS are allowed in the temple.  If you or any of your guests bring a camera, it must be checked at the recommend desk and picked up as they 
     leave the temple.



The wedding day:


Eat breakfast (it is going to be a long day)
Do hair and makeup
Be at the temple at least one hour early (check with your temple)
You may arrive together (you don't have to adhere to the old tradition of not seeing each other before the marriage).
Bring marriage license, recommends for both sealing and endowment(s) (if either of you have never been endowed).
you can wear your best Sunday attire and bring your temple dress and/or wedding dress with you to change into there.
         (you don't have to wear your wedding dress for the sealing. You can wear a temple dress for the sealing and
         change into your wedding gown so you can exit the temple ready for photos.
Pack temple clothes, garments, white nylons, shoes, bridal clothes (and veil), jewelry, touch up make up kit.
You will present your recommends at the desk and wait for the temple workers who will come and escort you
         throughout the entire time you are in the temple.
(Be sure florist knows when to deliver and/or set up for reception)
For temple sealing, photographer should be outside temple waiting about the time sealing is scheduled. (This gives him time to set up and plan shots).  (Also
          don't spend more than an hour taking photos at the temple-there may be other bridal parties waiting.)
If you are having a ring ceremony, the wedding party should be at the location an hour before the ceremony.  (The photographer could start shooting 
          wedding party photos to save time after ceremony).


p.s.  if you have arranged a limo to transport the bridal party to the reception site, instruct the driver to 

not 

park in the temple 
parking lot or on the temple grounds.  It should use street parking. 

Note:  Rice throwing, car decorating, and other such activities are not allowed on the temple grounds.



Important Note:

  The above information was obtained from the Temple Department in Salt Lake.  Some temples requirements may differ slightly from
what I've outlined.  If the instructions you receive are different from the above - follow the instructions from YOUR temple!  


Sacred, not secret
People often confuse the purpose of secrecy about the temple ordinances.

  

It is not the intention of the church to limit or restrict the number of people who 
can enter the temple.

  

The church's goal is to have every member be worthy to attend (and to extend the missionary program of the Church so that all people 
may have the blessings enjoyed therein.)

  

The reason members are instructed to refrain from talking about the ordinances performed in the temple is because 
they are sacred ordinances.

  

They should not be discussed outside the temple.

  
What to do about non-members who expect to be at the ceremony
Not everyone is a member, or worthy of attending the temple.

  

The bride and groom may be members, but what if the bride or groom's parents are not?

  


To non-members it seems inconceivable to have a wedding without the mother of the bride or groom being able to attend.

  

This is a very sticky situation 
and can cause hard feelings for years to come. 
If you and your future spouse fear alienating your family (-ies) with a temple sealing, consider the following:
·

         

Have a ring ceremony at your reception where non-LDS family and friends can feel as though they are witnessing a portion of the event, while at the 
same time learning about the covenants you made in the temple.
·

         

Prayerfully approach your family members and explain why a temple sealing is so important to you.

  

Be sure to emphasize that you can imagine how 
hard it will be for your family to miss the big event (try to remember that this decision is very difficult for many family members to understand. They 
are feeling hurt, left out, and deprived of sharing one of the biggest moments of your life).
·

         

Suggest your family meet with the Bishop so he can explain the sacred nature of the temple and answer any questions they might have.
·

         

Make a special effort to include non- temple attending family members in the other details of your wedding (from selecting your dress, colors, and 
other elements of the planning stage to taking part at the reception with toasts, special jobs, and the like.)
·

         

Let them know they are welcome to come to the temple and wait in a specially appointed waiting area in the temple and then join you when you 
come out of the temple for photographs in front of the temple. (Speaking of photographs, there are No photographs allowed in the temple).
·

         

During your sealing, focus on the ordinance, not on who is missing.
·

         

As you exit the temple, take a moment with your close family to express your feelings about the ceremony.

  

Tell them how beautiful it was and share 
any appropriate thoughts about what transpired and what was said.
You would be surprised at what many people think happens in the temple and why we don't allow non-members to attend. Emphasize that they are not being 
excluded because of "secrecy" but rather because of the "sacredness" of the temple. You can assure them that it is a holy ordinance ordained by God. Both 
the bride and groom wear white and kneel at an altar where they make covenants with God that they will keep their marriage vows sacred. In that respect it is 
very similar to what non-members expect of a wedding.

  

Tell them there is no walking down an aisle, no flowers, no attendants, none of the worldly wedding 
spectacles we are used to seeing on TV. The biggest difference is that the couple is sealed for eternity, not just for their life on earth.

  
Why the Temple?

   

Quotes from the Prophets

:
"There is not a young man in our community who would not be willing to travel from here to England to be married right, if he understood things as they are; 
there is not a young woman in our community, who loves the Gospel and wishes its blessings, that would be married in any other way."
                                                                        

Brigham Young
"I believe that no worthy young Latter-day Saint man or woman should spare any reasonable effort to come to a house of the Lord to begin life together. The marriage vows taken in these hallowed places and the sacred covenants entered into for time and all eternity are proof against many of the temptations of life that tend to break homes and destroy happiness."
Heber J. Grant
"… Nothing will prepare mankind for exaltation in the kingdom of God as readily as faithfulness to the marriage covenant. This covenant can be the means by which man gains his greatest happiness…The greatest honors in this life and in the life to come…are blessings that flow from it… an eternal principle upon which the very existence of mankind depends. …"No ordinance connected with the gospel of Jesus Christ is of greater importance, of more solemn and sacred nature, and more necessary to the eternal joy of man than marriage in the house of the Lord."
Joseph Fielding Smith
"Marriage is perhaps the most vital of all … decisions and has the most far-reaching effects, for it has to do not only with immediate happiness, but also with eternal joys. It affects not only the two people involved, but also their families and particularly their children and their children's children down through the many generations"
Spencer W. Kimball
("Oneness in Marriage," Ensign, Mar. 1977,

3). "…God bless you, that as you look forward to or contemplate your marriage, you may look not only for rewarding companionship and rich and fruitful family relationships through all of your mortal days, but to an even better estate where love and treasured associations may be felt and known under a promise given of God.
... Do not spurn that which He has offered. Live worthy of it and partake of it, and let the sanctifying power of His holy priesthood seal your companionship." ---
President Gordon B. Hinckley
In addition to the prophets, almost every member of the quorum of the twelve apostles has written something about eternal marriage. Here is an excellent 
example by Bruce R. McConkie, "Celestial Marriage," New Era, Jun 1978:

"Everything that we do in the Church is connected and associated with and tied into the eternal order of matrimony that God has ordained.

  

Everything that
 we do from the time that we become accountable, through all our experiences, and all the counsel and direction we receive, up to the time of marriage, is 
designed and intended to prepare us to enter into a probationary marriage arrangement, one that does, in fact become eternal if we abide in the covenant 
made in connection with that order of matrimony.

  

Then everything that we do for the remainder of our lives, whatsoever it may be, ties back into the celestial 
order of matrimony into which we have entered and is designed and intended to encourage us to keep the covenant made in holy places.

  

That is the general 
concept, briefly stated, under which we are operating."
Preparation for Temple Sealings

:
Before you can be sealed for time and eternity in the temple, you first need to take out your own endowments.

  

Going to the temple for the first time requires 
preparation. The temple experience is like none other in the church.

  

It could be overwhelming if you come into it unprepared.

  

There is a lot to learn and will 
require your complete attention.

  
Best way to prepare for temple ordinances:
Almost every stake and ward offers temple preparation classes.

  

I STRONGLY suggest that you and your fiancé attend one of these classes. Ask your 
bishop to put you in the next class - Especially if either one of you has never been endowed.