The Reception
You can plan a wedding reception in a week (and it has been done), but why would you?

  

Half the fun is in the planning.

  

Just don't let it get out of hand so that it is 
no longer fun.
 This site is packed with interesting things to do to express your personal style but you only need to choose one or two to make it you.
When should I have the reception?
Ideally, the reception should be the same day as the temple ceremony, but it doesn't have to be.

  

You could be married in the temple on Thursday and have your 
reception Friday evening.

  

Many brides choose to keep the two events separate in order to maintain the sacred emphasis on the temple sealing

.

 Nevertheless, once 
you get dressed and do your hair and makeup for the temple wedding and photos, it can be anti-climatic to get all dressed up again the next night. If you live in two 
different states and are having two receptions or open houses, you will most likely be getting all dressed up again for the second one.

  

It is expensive having to have 
two receptions (especially if the groom has to rent a tux, and there's a cake, and the whole thing over again – but the good news is that you don't have to pay for it 
– it would be the groom's family's party and responsibility).
If your temple sealing is scheduled early in the morning, you might want to consider a mid-day reception.

  

You could serve tea sandwiches and fruit salads.

  

It would 
be elegant and less expensive.
  

How long should it last?
Receptions should never go on longer than five hours and even that is stretching it.

  

Most members only plan to stay two hours so you need to have all the important 
things happen within that time frame.

  

If you are having a band and dancing, you may think the guests will stay until midnight.

  

Typically, the only ones who might hang 
around that long are the bridal party and perhaps a few college friends.

  

Most guests will be gone by ten.

  

Keep that in mind when scheduling the band. 
What if it rains?
Wherever you choose to have the reception, if it will be outdoors, be sure to have a "rain" plan.

  

Can you afford to tent? If not, can the party be moved indoors?

  


Can you arrange for an alternate location?

  

If the party is outdoors and it rains, chances are that more than half the guests won't show.

  

That takes the burden off 
trying to move indoors, but you'll be stuck paying for food that the guests aren't there to enjoy. If you have a caterer, ask if they have a provision in their contract 
to adjust for no shows due to rain.

  

They will know the day before if rain is expected and they could adjust the amount of food.

  

If you are unable to come up with 
a rain plan for your venue, and there is a possibility that you could be rained out, you might want to re-think your venue options.
Choosing the location for the reception
While it would be impossible to innumerate the millions of possible venues across the United States, there is one invaluable tip with which we would like to begin: whether you are in Washington D.C. or Huntington Beach in the O.C., a great place to start is with your local activities committees, both past and present. Ask the local ward (and stake) activities chair people for places in which they have held ward functions. As the ward party budget is relatively small, the activities committee will know of places that are affordable and that can accommodate a large crowd. Moreover, they may know of decorations that you can use, ways to feed large groups on a budget, and ward members with special skills you can enlist. If you belong to a single's ward, get in contact with a family ward's committee members as well.
Regardless of where you live geographically, there are some standard wedding venues you may wish to consider:
        

Specialized Wedding Reception Centers:
This can often be an excellent way to save money and the stress of having to plan everything yourself.

  

Specialized wedding venues usually offer 
several packages including: tables, chairs, linens, flowers, food, cake, beverages, and set up

,

 for one reasonable price. 

 

Some will even offer a 
wedding consultant and/or print your invitations. They usually have a lovely space for a ring ceremony right on the premises if you elect to use it.  
Many reception centers feature gazebos, bridges, or dramatic staircases perfect for photographing the bride and groom. 
Because weddings are their business, and only business, they go out of their way to meet your every need.

  

They have all the necessities, from 
large bathrooms to speaker systems for music. 
Most sites insist that you use their caterer and have a minimum food 
requirement (some also require an in-house florist or photographer)
Ask if they charge a "cutting fee" if you bring in an outside cake.
The only other negative could be that, if they are a very large venue, you could very well be sharing it with other brides so it may not be as intimate 
and special.
               It may be a little more expensive than shopping around for better deals, but
it is really worth it to be able to relax and let someone else ensure you have a perfect day!
               

Hotels:
Hotels offer many of the same pluses (and negatives) of wedding halls, but usually at a steeper price. Also, it is worthy of note, hotels are not always 
as helpful and accommodating as wedding reception centers because their clientele is more often comprised of business conventions. Sometimes they 
will give the bride and groom a honeymoon suite and arrange for out of town guests to stay at discounted rates. 
Parking can be a plus (but many often charge valet fees).

  

One word of caution:

  

If you are only going to have 100 people, you don't want to rent a 
ballroom that accommodates 500. Try to find a room where your guests will fit comfortably but not so large that it looks like nobody came.
Find out what time you can set up and what time you have to have everything cleared out

  

(make sure you have people assigned to these tasks – you 
won't be able to do it.) Ask if they provide a room for the bridal party to set up in.

  


One of the negatives of having your reception at a really fine hotel is that guests may wander off to check out the hotel and "looky loos" may wander 
in to check out your wedding.
Country Clubs:
If your family or a friend's family belongs to a country club, this would be an excellent location for a ring ceremony and reception.

  

You get the best 
of both worlds – the beauty of the outdoors and the comfort of an elegant indoor venue.

  
You could have both the ring ceremony and reception outdoors - weather permitting.
The pluses and minuses are about the same as a hotel.

  

Ask if they charge guests for parking.

  

Ask about their policy of bringing in outside vendors 
and if there is a "cake-cutting" fee for bringing in your own cake.

  

Ask if they have a room for the bridal party to change in.

  

One of the biggest pluses of a country 
club over a hotel is that country clubs usually don't have more than one wedding going on at a time.

  

You'll have a more intimate evening.
               

Restaurants:
               

Many restaurants do an outstanding job with wedding receptions so 
               

don't hesitate to check some out.

  

Restaurants are an especially good option 
               

if serving quality food is important to you.

  

Many restaurants (in Utah 

   
               

especially) have excellent facilities for receptions with atmospheric indoor and

    
        

       

outdoor options.

  

For an elegant affair, we love La Caille and Log Haven, but 
               

virtually any restaurant can serve as the backdrop for your reception. 

            
Parks, Beaches, Mountains, Backyards and other outdoor venues

:
While outdoor venues can be very romantic and desirable, there can be big problems if you don't do your homework.

  

The cost to reserve them is 
typically very small and the need for decoration is minimal in a scenic locale.

  

Nevertheless, there may be many hidden costs.

  

Is there sufficient seating 
or will you need to rent tables and chairs (or borrow them from the stake center)? Are there sufficient bathrooms to accommodate the number of guests 
attending or will you need to bring them in?

  

Will you need to bring in space heaters? Will you need to rent a generator to get electricity for lighting, 
music, or microphones for the toasts?

  

Besides the hidden costs, there can also be logistical problems with outdoor venues.

  

Is there a place for the 
bride and groom to get ready?

  

What will you do in case of rain or snow? Are there any local events that could interrupt the event? (For example, if 
your local park has a baseball diamond, is there a game scheduled?

  

If you are planning a morning or afternoon party, will the "Stroller Strides" moms 
be exercising nearby?)

   

Another potential problem is the privacy issue.

  

In a public place you may have "looky loos" hanging around and potentially 
mingling in with the guests, eating your food, walking off with your gifts, etc.

  

Another problem with outdoor venues (besides the risk of rain) is that the 
elements (heat, humidity, dust, wind, etc.) can wreak havoc on the bride's hair and makeup. Also take into consideration that you will have to haul 
everything to the location.

  
One more thing to take into consideration is that outdoor elements such as heat, humidity, wind, and rain can affect your decorations, your guests comfort level, and your hair and make-up
 While that may seem like quite a list of negatives, bear in mind that choosing the right location and careful planning can eliminate the majority of the costs 
and concerns mentioned above.

  

Outdoor venues are still one of my favorite options for a fabulous wedding on any budget. 
One way to reduce some of the negatives, would be to choose a location that has an outdoor feel, but it is connected with a property that supplies all the 
amenities.


               

Museums, Libraries, Historic Homes, college facilities:
If you have a special interest, one of these places might be ideal. You must 

      

book early to reserve a popular location. 
There may be restrictions on food, music and hours and you will have to provide tables, chairs, linens, china, etc.

  

Check to see if there is a kitchen
For the caterers and a dressing room for your bridal party.
               

Church buildings:
               

The Joseph Smith Building in Salt Lake is a popular venue for a number of 
               

Reasons:

  

They know how to treat their brides.

  

Even though they are not a "specialized wedding venue," they have all the benefits of one.

  

They can 
supply all your wedding needs – the catering, cake, flowers, even a bridal consultant.

  

All that means less stress for you


                  

Photo by Busath Photography 

    

  

@ the Joseph Smith Building
               Popular tourist attractions (Zoo, Wild Animal Park, Sea World,
               

Disneyland, Stratosphere in Las Vegas, etc

.:
This may sound silly, but you can have an amazing wedding reception at these places – one your guests will never forget. So if you are young at heart 
or a little wild and crazy, look into it.
 The biggest negative is that your guests could leave your party to wander around the attraction.
               

Cultural Hall:
If you are inviting the whole ward and you don't want to trim your guest list, the cultural hall is an excellent choice.
It is one of the cheapest options as there is usually no cost to rent the venue
(some stakes charge a nominal fee to cover clean up after the event); You won't need to rent tables and chairs; You could borrow the wards table cloths, and silverware; It is already wired for sound; There is ample (free) parking;
you won't have to worry about inclement weather; and there are no food requirements.
There are some negatives to be considered: You may have to spend more on flowers or other decorative touches to make it feel less like a gym; You might have to rent plates and glasses, and possibly 90" colored rounds in your color scheme; it may feel less personal and more like all of the other weddings in
your ward; and it can definitely be more stressful to try to juggle all the wedding details yourself.
(See our Cultural Hall Makeovers at asimpleldswedding.com )

               

Garden Party:
A garden party is an elegant and less expensive alternative to a reception.

  

You can have it in your own garden, a friend's garden, or even a local park 
or other local garden venue that could be available to rent.

  

Some cities have lovely Victorian homes with gardens that are available to rent for these 
occasions.
You could hire a string quartet.

  

You don't need to have tables and seating for every guest at a garden party.

  

Most guests will just be socializing.

  

The 
food is usually buffet. But this would be an excellent place to just serve desserts and punch. 
If your party is going to be in the evening, do a night time check to see if any additional

  

lighting will be required. White Christmas lights are very 
attractive, but they don't provide much light. Instead of White Christmas lights, you could put tea lights or small votive candles (in glass so they don't 
melt all over tables, etc.) all around.

  

The more you put out, the more romantic the setting – and magical.

  

They make a huge impact for a minimal amount 
of money (be sure to check if candles are okay at your chosen venue!) Nevertheless, you still may need to bring in a source of additional lighting. Also, 
depending on the time of year, determine whether or not you will need to rent some outdoor heaters.
Garden parties are an excellent choice for the "Romantic" bride.

Miniature birdcages and/or baskets would be excellent choices for centerpieces.
The only serious deterrent to a garden party could be a lack of parking.
Note: If you are going to ask someone to use their garden for your wedding reception, you should know them really well. People don't realize how much work goes into preparing a yard for a wedding. It is not only going to require manual labor (cleaning all the patio furniture, washing windows, etc.) but a lot of extra expense in planting more flowers. Just because you've been to a wedding in their garden and it was perfect doesn't mean it always looks like that.
               

Open House:
The term "open house" denotes a smaller scale, informal gathering to celebrate a couple's wedding. Having an open house instead of a reception works 
really well for smaller weddings and keeps the costs down.

  

It costs less because you are not having to pay for a venue; you don't need to decorate 
the venue with flowers; and you don't need to set up tables, tablecloths, centerpieces, etc. An open house can be as simple as you choose.
 

You can have the open house in your own home or in a friend's home.

  

Even if you are planning to use a garden, you can still call it an open house.

  

You 
can use your dining room table for the food and put desserts on your kitchen table or on a table outside.

  

You don't need to have music and dancing 
(although you could – and if you do, you could still have a first dance, etc).

  

People will just socialize and help themselves to food.

  

You could still have a 
bouquet toss if you wanted to – do it just before you leave (but skip the garter toss).
 

This is the easiest and least expensive way to entertain guests following a temple wedding.

  

It also provides a good alternative if you wish to have a small 
but posh wedding reception for a few intimate friends and family members and then host an open house for all of your ward and extended friends at a later 
date.
 

If your yard is big enough, you could hold a ring ceremony there and then have the open house immediately following.

  

You'll have to set up chairs for the 
ring ceremony – ask the bridal party to move the chairs around to make room for the open house.

  
                    
     See our PHOTOS of Reception Sites at:  

   asimpleldswedding.com
     
Think outside the box:
We've enumerated all the traditional reception sites – or have we? You might have something entirely different in mind. You could have your reception on a boat so no one could leave. That way you are guaranteed a captive audience for the duration of the reception! Actress Amanda Peet married at her high school. A high school sports field, theater, library, or gym can be very reflective of your interests. (We think it would be adorable to have your guest book look like a high school annual. Make up a scrapbook of you and your fiancé and lay it out like a year book with your high school photos, sports photos, etc. and have your guests sign that instead of a traditional guest book.) We even know a couple who had a pool party as their reception. She wore a white bathing suit and a veil, and he wore black board shorts and a red bow tie. They got some adorable shots of them jumping into the pool.
One caveat: While this is your big day, this is also a momentous occasion for your parents and grandparents. Be considerate of family members who are also anticipating this blessed event. While bowling, ice skating, or a pool party may seem like the perfect day to you, your grandparents and father's business associates wouldn't quite fit in. You may have to compromise: A pool party for you and your friends; and an open house for your grandparents and more formal associates the following night.
Remember, your location can be virtually anywhere. The possibilities are endless, but if your budget is not, consider the many free or cheap options that can still be very personal and unique.
Things to consider when booking a venue for your reception:
· Lighting
· parking
· bathrooms
· outlets for music, mics, etc.
· looky-loos - would the location you are considering have lots of other people around who could be curious and wander around your party mingling with your guests and eating your food?
· Wanderers – would your guests be tempted to leave your party to wander around the location?
· hidden costs: rentals (tables, chairs, tents, heaters, plates, linens, etc.), cake cutting fees, food requirements like if more or less people show up than you anticipated, tips, etc
· What are options for inclement weather?
Consider pluses and negatives for each venue: park, hotel, reception center, restaurant, cultural hall, backyard, beach, mountains, etc. While we have outlined many of the good, the bad, and the ugly of a variety of venues, make your own list including those things that are important to you. Be sure to highlight those features that your venue must include (anything from a dance floor to a gazebo or garden; water proximity, excellent food, etc.)
Possible considerations: price, atmosphere/ambiance, all-inclusive (hassle-free) packages, weather- rain, cold, humidity, preparation necessary, number of people accommodated, parking, lighting, a place for the bride to get ready, etc.
Here are some photos we took at Thanksgiving Point. We thought you might enjoy seeing what setups look like done from a simple setup, then taking it up a few notches.
(To see these photos enlarged, or to see more reception sites, go to:
asimpleldswedding.com
)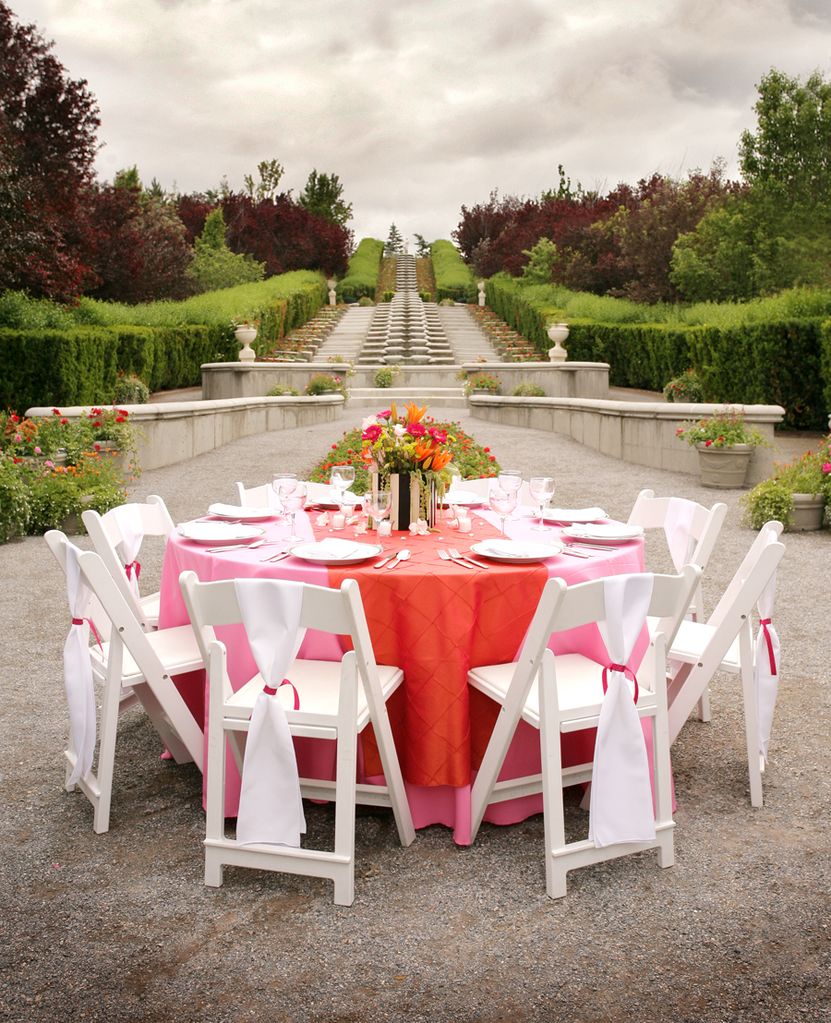 Here are two examples of going simple, or all out - it's up to you