Photographer
Photographer:

                
Don't be too quick to skimp on the photography budget.

  

While flowers die and excess food will be discarded, your 
engagement photo and your best wedding photos will be around for generations in family photo albums.

  

You want 
them to be the best they can be. 
How to find a photographer:
When looking for a photographer, the best place to start is with other brides:

  

Ask who they used and look at their 
wedding albums.

  

If you are still unsure, look in the yellow pages for the names of local photographers.

  

Don't call 
them.

  

Look them up on line and look at the gallery of photos they have posted.

  

After you've found one you like, 
call to set up an appointment.

  

He will show you more photos at his studio and you will get a chance to see if the 
two of you "click."
Determine your photo style
Look at various photographers' portfolios.

  

There are several styles of wedding photography, from traditional posed 
portraits to what is known as "photo journalism." You should take a look at the different styles and see what appeals 
to you.

  

Also consider the personality type of the photographer as you will be spending a good deal of time with him 
or her on your wedding day.

  

Some photographers spend a great deal of time on each shot selecting the perfect setting, 
lighting, and posing of each individual. Others act more like a friend, unobtrusively following you around taking pictures.  
If you choose the former, you may tire of the endless direction and feel forced or contrived in the pictures.

  

If you 
choose the latter, you may find that some of your best shots are in front of boring backgrounds or that you never got 
the traditional posed wedding portrait of you and your husband or your families.

  

Ultimately, you must decide what is 
most important to you and then provide the photographer with any instructions that will help him to achieve those ends.

  


Remember, you only get one chance to capture the shots you desire, there is no going back for any shots you may 
have missed. (See our list at the end of this section for some suggestions of shots you don't want to miss!)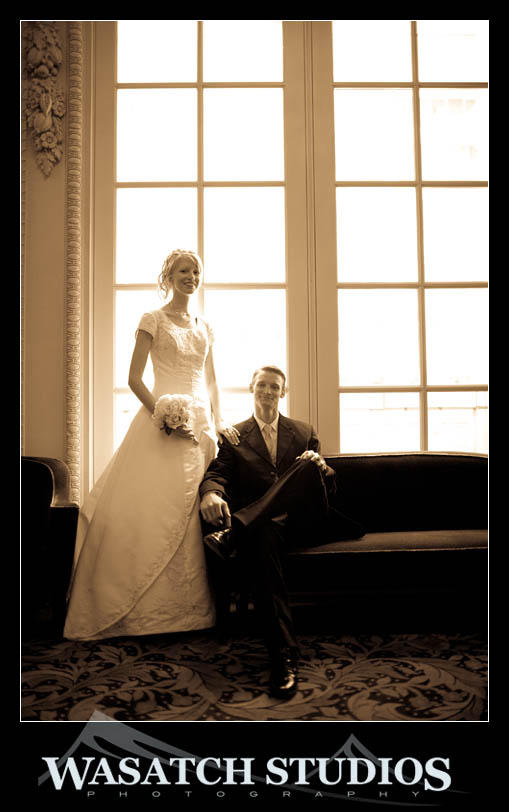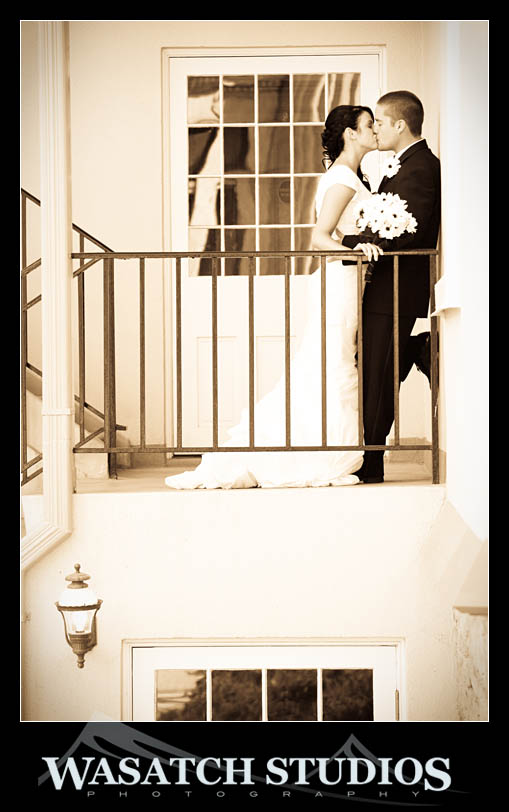 Traditional Photography                                      Photo Journalism


Consider non-wedding sources
If you hire anyone who is not a "wedding" photographer, you should give him a list of photos that are particularly 
important to you (cutting the cake, the first dance, father/bride dance, bouquet toss, Kiss, etc.) to make sure he is 
on the look out for those photo opportunities. (See the extensive list below.)

  

In addition, be sure to ask about the 
photographers' experience with your specific wedding needs (i.e. outdoor events, night shots, portraits verses 
candid shots, the noon-day sun, candlelight or twilight, etc.)
Ask if the photographer has shot at your location before.

  

You'll get much better shots if he is familiar with the 
location.

  

He's learned what works and what doesn't from previous shoots.

  

Sometimes the photographer is on 
the wrong side of the room and cannot get good shots of everything that takes place.

  

If you have friends or 
relatives who are good at photography, ask them to serve as back-up photographers. You will then have a 
variety of different angles during key moments like the first dance, and you will benefit from several different 
perspectives on the details of the day.

  

Each person will note someone or something that the others did not.

   
Interview Photographers
While interviewing photographers, there is much more to the inquiry than just the price:
·

    

Ask if they use film or digital cameras and if the photos will be available in both color and black and white.

  
·

   

Find out exactly what their packages include, specifically asking:
         

* if engagement photos or wedding albums are included in the price
         

* the hours of coverage, any travel fees, 
         

* who will be in possession of the negatives,
         

* cost of additional hours of service, 
         

* approximate number of photos that will be taken, etc.

   
·

   

Be sure to ask about the cost of obtaining additional prints.
·

   

Be sure he has a back up photographer in the event of an emergency and he can't make it the day of 
your wedding.

  
·

   

Ask him how many cameras he carries and if he has a back-up for worst case scenarios.

  
·

   

Ask him how many rolls of film/ memory sticks he will have on hand.
Wedding photographers often charge astronomical fees for pictures that did not come as part of the original 
package. Almost inevitably, some relative will want to purchase a few wedding pictures.

  

We know a bride 
who got a great deal on her wedding package, but when the mother of the bride tried to order prints, it cost 
$90 for each 4x6 photo!

  

(That is not a misprint – ninety dollars!

  

Suffice it to say, her grandparents only have 
Xeroxed copies of her photos!)

  

When considering a photographer, ask about his/her policy on extra prints 
and bargain for the negatives as part of your price.
Do your research and interview a variety of sources, not just those labeled as "wedding photographers."

  


While traditional wedding photographers may prove more experienced in this particular genre/venue, 
"non-wedding" photographers often charge 50%-75% LESS than those with the "wedding" moniker.  
(The wedding industry preys on those who want the dream wedding by hiking up prices.

  

They count on 
brides spending extra for the fairytale wedding because they will only be married once!)

  

If you are on an 
extremely tight budget, you may wish to consider hiring a photography student from a local college.

  


Interview various candidates and get references from their professors.

  
Budget Tips

Don't risk disappointment with a cheap photographer or an inexperienced relative. Hire a photographer to cover fewer hours - perhaps just for the temple and posed portraits, for example. These professionals don't necessarily need to be shooting while you're getting dressed, or after the cake is served at the reception. Also, try hiring a photographer and videographer from the same company, which may offer a discount. Some photographers even offer photo gift registry options to allow your guests to help you purchase more prints or a better package. Whatever you do, go ahead and negotiate package prices – just don't negotiate on quality.
If you live in a large metropolitan city, you might find that it could actually be cheaper to fly in a top notch Utah photographer (even including paying for his airfare) than hiring a local mid-range photographer. Check it out. (Two we know of are Jonathan Canlas and Dan Hixon. Give them a call)
Disposable cameras
You can find many sites on the web that offer disposable cameras.

  

Having one on every table is an excellent idea 
because the guests will take photos that the photographer may miss while he/she is shooting YOU!

  

While disposable 
cameras provide a lot of fun and preserve many great memories, we do not recommend using them in lieu of a 
professional photographer! Your guests will rarely get all the key pictures you would have desired (many will be of 
themselves, their friends, or those sitting at their table) and the quality of the prints is naturally poorer than those 
produced by a professional camera. Also, be cautious that the cameras you get have a flash and come loaded with 
good film (preferably Kodak) because the cheaper cameras take poor shots at night and cannot shoot past 10 feet.

  


While you might save money on the total cost of the cameras, you will waste money developing blurry and unusable 
prints. The cameras come in all colors (including, but not limited to, white, silver, and gold.) Search on the web by 
entering "disposable wedding cameras."
Wedding photo albums
If your photographer is charging an arm and leg for putting together your wedding photo album, you could make 
your own for less than half the cost.

  

A lot of the expense is in the quality of the photo album itself.

  

You can buy 
the same fancy leather ones photographers use on-line at Brother's Photo (albumhouse.com) or Wedding Album 
Depot (weddingalbumdepot.com).

  

Of course, a top quality leather album is unnecessary.

  

Go to Hallmark and 
spend $39!
Seasonal wedding photos
Just because you've planned a winter wedding doesn't mean you can't get some great outdoor shots. Most bridal venues have beautiful locations that are just as lovely with snow on the ground – sometimes even more dramatic, like this shot..Let it snow!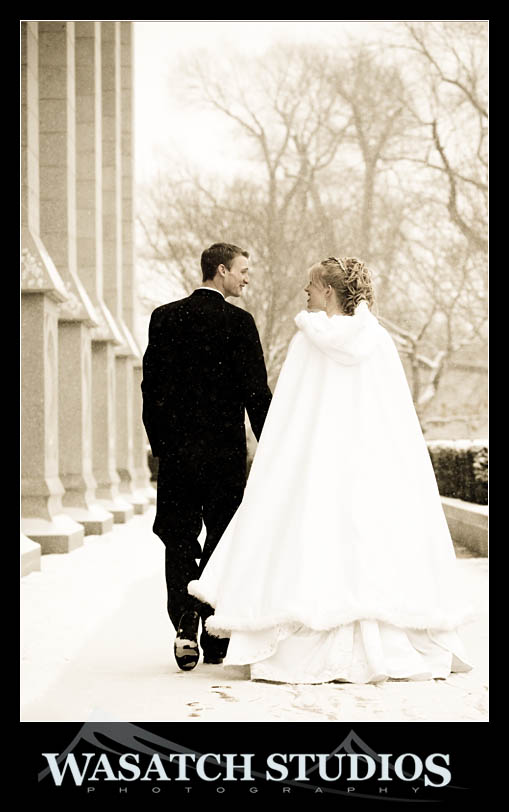 Take advantage of whatever season you are having your wedding and ask the photographer to find a location that will highlight it best (fall foliage, a flower field, the beach, etc.).
Note:

  

If you live outside of Utah or select LDS-friendly 
communities, be sure to inform your photographer about 
the importance of the temple!

  

You will want a fabulous 
picture with the entire temple in view.

  

If the photographer
does not understand the nature of the temple (that it IS the 
wedding!) then you may not get some of the key shots you 
would desire.

   
 

Suggested Photo Shots:

           
            

Bride and groom (in front of temple
                

posed and smiling!)*
          

  

Bride with her family
            

Groom with his family
            

Bride and groom with both families
            

Bride and Mom(s)
            

Bride and Dad(s)
            

Groom and mom(s)
            

Groom and dad(s)
            

Bride with her bridesmaids
            

Groom with groomsmen
            

Bridal party together
            

First dance
            

Father/daughter dance
            

Toasts
            

Cutting the cake
            

Garter toss/ bouquet toss
            

Last dance
            

Getting into the car to leave
         

   

Driving off (the "Just Married" sign)
            

Etc.
*you would think that this would be obvious – but you would be surprised at how many couples get their photos 
after the wedding and there is not one photo of the two of them looking at the camera. 

 

Some photo journalists 
get so carried away with the artsy photos that they never take the shot that should be passed down for generations.  
Be sure to ask for it!
TIP

: give the list of shots you desire to your photographer ahead of time. Also give a copy of the list to a 
designated friend on the big day.

  

In the whirl of it all, you may find that both you and the photographer lose 
track of which shots you've taken. Your friend (often a member of the bridal party already on call for the photo 
shoot) should watch to be sure that the key shots you desire are captured.

  
Getting important people in your shots
Don't assume the photographer will know who's who in the bridal party.

  

While he may know the bride and her 
family (as they are typically the ones paying his check)

 

he will not be able to identify extended family members like 
the groom's great-aunt Edna!

  

If there is an important member of the family that you wish captured on film, point 
him/her out.

  

Especially if there are complicated family dynamics (adoptive parents verses biological, divorces, and 
the like) take your photographer aside and introduce key family members and friends. 
Of course, some couples decide that photography is an area on which they are willing to scrimp.

  

If you decide to 
enlist an uncle or cousin as your wedding photographer, you may save a substantial amount of money. But, be 
aware that many brides later regret the decision.

  

Some brides complain of waiting for photos for up to a year while 
others regret the omission of certain key shots.

  

If you choose to go this route, it may be a good idea to have the 
designated photographer take a few shots before the big day (your engagement shots and bridals) to be sure you 
like the quality of his/her work. 
Of all the wedding cost decisions you will make, your photographs will be the longest lasting.

  

Make sure you will 
have no regrets twenty years down the line.

  
Unique photo shots
See if you can negotiate a deal with your photographer to take some really unique photos.
If you have a lot of time between the temple and the reception, go somewhere special to you for a photo shoot.

  

  


Pick your favorite sport – hit the ski slope dressed in your bridal clothes…and ski boots – you can get a great 
shot on the ski lift!
  

Was your first date at an amusement park?

  

Did he propose at the beach?

  

Take a photo that will remind you of your courtship.